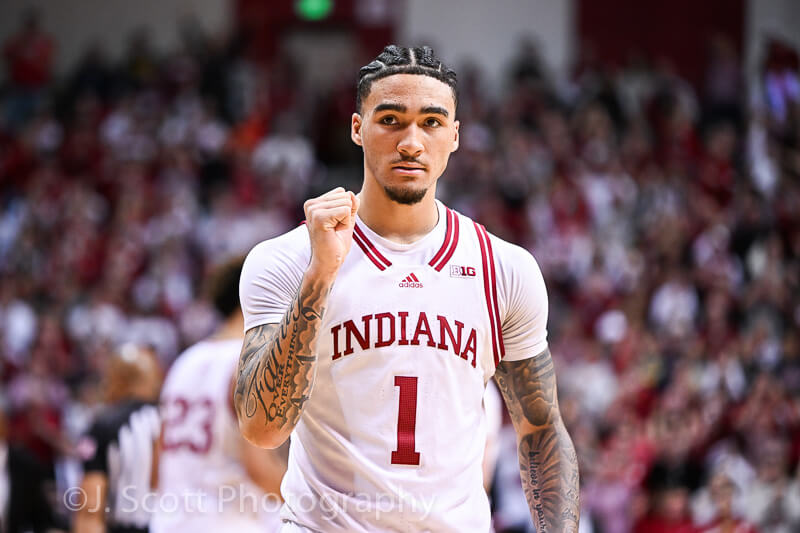 Indiana advanced to the second round of the 2023 NCAA tournament with a 71-60 win against Kent State on Friday at MVP Arena in Albany, New York.
Here are five takeaways from the win against the Golden Flashes:
Indiana handles Kent State's pressure
Kent State's defensive pressure and ability to force turnovers was a focus for Indiana entering Friday's NCAA tournament matchup against the Golden Flashes.
Rob Senderoff's team was in the tournament primarily due to its defense and ability to force turnovers, which was Kent State's biggest strength.
With a freshman at point guard and limited ball handling on the roster, many wondered how the Hoosiers would handle the pressure of guards like Malique Jacobs and Sincere Carry.
After 40 minutes in Albany, it's fair to say Indiana passed the test. The Hoosiers turned the ball over only seven times on Friday, leading to only eight points for the Golden Flashes.
Kent State never got into transition, either, scoring just three fast-break points in IU's 11-point win.
Race Thompson comes up big in a crucial spot
Offensive consistency hasn't always been present for Race Thompson in his sixth season in Bloomington.
The 6-foot-8 Thompson has struggled all season from the perimeter and his 2-point and 3-point field goal percentages are down from last season.
But Thompson set the tone early offensively for the Hoosiers on his way to a 20-point night. The Minnesota native scored 13 points in the first half and made two 3-pointers against the Golden Flashes.
On a night where Jalen Hood-Schifino wasn't Indiana's secondary scoring option behind Trayce Jackson-Davis, Thompson filled that role and then some.
Thompson was an efficient 8-for-11 from the field and also added nine rebounds in 29 minutes. The Hoosiers were +19 with him on the floor, a team-high.
"I'm just thankful for my teammates always keeping me locked in," Thompson said postgame. "I've been banged up a lot this season, and if I can't practice, they always tell me it's going to be all right, just stick with it. I just give credit to my teammates and coaches for keeping me confident, keeping me locked in even when my body isn't feeling great."
Indiana's defense locks down Kent State
Defense-first has been the mantra from Mike Woodson since he took the Indiana coaching job in the spring of 2021.
The Hoosiers had the Big Ten's best defense in Woodson's first season, but had a regression in year two with the offense carrying the way for a large part of the season.
On Friday, however, Indiana had one of its best defensive performances when it mattered.
The Hoosiers allowed Kent State to shoot just 22-for-69 from the field and held the Golden Flashes to .94 points per possession. Kent State's shooting percentage (31.9) was the lowest for an IU opponent through 33 games.
"We knew coming in tonight we had to defend this team because they could score the ball," Woodson said following the win. "I thought for the most part we were solid all the way through, and we're going to need that the rest of the way."
Another dominant effort for Trayce Jackson-Davis
It was a slower start than normal for Trayce Jackson-Davis in Friday's win, but the first team All-American was dominant down the stretch.
Jackson-Davis scored 14 of his game-high 24 points in the second half.
His final stat line? 24 points, 11 rebounds, five assists, five blocked shots and a steal in 35 minutes.
Kent State tried to make it challenging for Jackson-Davis to catch the ball in his spots and threw different looks at him, but it didn't matter. The IU senior wasn't going to be denied.
"You know, he missed — his first two shots around the bucket was point blank that he just missed," Woodson explained. "Or he probably would have got off to a better start. I thought he hung in there, and he just kind of let the game come to him because they were basically trying to keep the ball out of his hands."
Indiana advances past the NCAA tournament first round for the first time since 2016
NCAA tournament success has been elusive in Bloomington in recent seasons.
The Hoosiers reached the NCAA tournament last season as a First Four participant, but were bounced in the round of 64 in a 29-point drubbing by Saint Mary's.
Indiana's goals were much higher this season as the players openly embraced the challenge of being a favorite in the Big Ten with a chance to advance in March.
Friday's win was Indiana's first in the NCAA tournament round of 64 since 2016. The victory puts Indiana in a position to also reach a goal that hasn't been accomplished since 2016: a trip to the Sweet Sixteen.
The Hoosiers will now take on Miami (FL), the co-champion of the ACC, on Sunday at 8:40 p.m. ET for the opportunity to advance to next week's regional in Kansas City.
Filed to: 2023 NCAA tournament, Kent State Golden Flashes, Race Thompson, Trayce Jackson-Davis


2023-03-18 07:11:13