Share this article paywall-free.
The delirious, disjointed drama was on the brink of continuing until who knows when. The remnants of Nebraska's biggest crowd of the season stood, clapping in anticipation of one more strike.
Then Nick Lorusso and Maryland struck a blow instead. And the Huskers' season potentially turned in the few seconds it took the Big Ten first-teamer to send a hanging slider into the Omaha night.
Broken up by a flurry of replay reviews, impromptu mound maintenance and a 93-minute lightning delay, NU and the Terrapins engaged in an unlikely stalemate in a winners bracket Big Ten tournament game Thursday at Schwab Field. Lorusso's two-out home run over the wall in left-center field brought it to an abrupt end in a 2-1, 10-inning victory that had the top seed moshing at home plate while the dejected Huskers looked on.
"That was kind of an unexpected finish to that game," NU coach Will Bolt said. "Tip your cap there. What a swing in that situation."
The game's length and wacky circumstances didn't diminish the significance of the outcome.
Maryland (39-19) earned a day off and will have two chances to win Saturday to advance to Sunday's title game. Fourth-seeded Nebraska (32-22-1) must win four straight times, starting with eighth-seeded Michigan State (33-21) in an elimination bout at 7 p.m. Friday.
A long, loud expletive echoed through the concourse behind Nebraska's first-base dugout afterward. The Huskers never trailed until the final stroke at 11:20 p.m. A crowd of 8,000-plus was ready to erupt time and again, with the much-maligned Maryland pitching instead coming through to strand 11 runners.
"I think it just wasn't our night from a hitting standpoint," said freshman Dylan Carey, who had two of NU's four hits. "I know what we're capable of doing and it just didn't go our way tonight."
The Terps finally broke through against reliever Shay Schanaman, who asked for mound dirt to be tamped down before coming on in the eighth inning to coax a first-pitch 6-4-3 double play and routine groundout to escape a threat. The fifth-year senior authored a 1-2-3 ninth and got two quick outs and two strikes on Lorusso in the 10th.
"Schanaman, I'm so ready for that guy to be out of college," Maryland coach Rob Vaughn said. "He eats our lunch every time we face him."
Then came a breaker that didn't break, and Lorusso cracked his 22nd homer of the spring.
"Obviously, the ballpark wasn't carrying that well," Lorusso said. "(Schanaman) did a really good job mixing up stuff. I was lucky enough to see an elevated slider and put it in play."
In a meeting of top-50 scoring lineups with a combined 216 homers entering the day, offense was improbably scarce. Nebraska nearly broke through in the first — a throwing error and infield single put two on base before first baseman Eddie Hacopian broke back to corral a would-be Gabe Swansen bloop hit.
The Huskers ignited a robust home crowd in the next frame with a small-ball score.
Josh Caron took a pitch off the elbow and Ben Columbus — wanting to bunt — walked. Carey advanced both with a sacrifice to set up Cole Evans' RBI groundout to second base.
NU mustered few threats from there against Nick Dean, a senior right-hander making his 42nd career start who had allowed 14 runs in his two previous outings. Dean retired nine straight before Carey opened the fifth with a single that ticked off the glove of leaping shortstop Matt Shaw. A leadoff Max Anderson walk in the fifth also didn't go anywhere.
While Dean went 6⅓ strong frames, Nebraska starter Jace Kaminska essentially matched him despite a 30-pitch first. The junior gave up a single, hit by pitch and walk to load the bases with two outs before striking out Matt Woods in an opening inning in which he said he felt "jumpy."
Like Dean, Kaminska cruised after the early drama.
He sat down 10 of 12 before Kevin Keister doubled down the left-field line starting the fifth. The only groundout Kaminska coaxed — off the bat of Big Ten first-teamer Luke Shliger to second base — advanced the runner. Then Shaw, the league player of the year, shot a single up the middle past a drawn-in infield to tie the game 1-1.
Maryland filled the bases from there with one out but Kaminska again rose up. A popout, then a break — an errant pitch hit Woods in the shin but the batter was ruled to have offered on a bunt try. Then a strikeout got the crowd to its feet and the Huskers off the field.
Kaminska struck out five across six innings and 99 pitches.
After giving up seven runs on four homers at Maryland's cozy ballpark earlier this month, he induced 12 flyball outs that stayed in the yard.
The top of the seventh lasted nearly two hours of real time. A 93-minute lightning delay — before which Maryland reliever Nigel Belgrave threw one pitch — briefly resumed before a lengthy video review overturned a called ground-ball double play but didn't ultimately produce any runs.
Nebraska's Corbin Hawkins tossed a 1-2-3 seventh and surrendered a leadoff single in the eighth before giving way to Schanaman. During the mound delay, CJ Hood — a Norris grad and high-leverage reliever for the Huskers last season who has missed this year with injury — announced on social media he was entering the transfer portal.
Maryland kept pace, getting 2⅔ scoreless frames from reliever David Falco before turning to starter Jason Savacool — a career 44-game starter with one previous relief appearance — in the 10th. NU went quietly, hurt in part by umpires ruling that Charlie Fischer leaned into a pitch that hit his elbow and was subsequently on a third strike.
The Terps dodged trouble an inning earlier by getting a strikeout with two on. Shortstop Brice Matthews stole second right before to become the second Big Ten player ever to record a 20-homer, 20-steal season.
"We're known for our offense," Falco said. "They haven't been hot the last two and they've been hot the whole season. It's about time we (as pitchers) picked them up."
Bolt said the Husker hitters were caught "in between" on their approach, perhaps too picky with some pitches they could have done damage to. Now they have to piece together a pitching plan — the coach said he had no early inkling on a Friday starter, though lefty Will Walsh may be a candidate after throwing 10 pitches Wednesday and warming late Thursday.
"It's emotional for now — these guys are heartbroken after that game," Bolt said. "They invest so much and they care so much. It's going to hurt, it should hurt, for tonight. But we have to find a way to win one game. That's really the one thing we have to think about."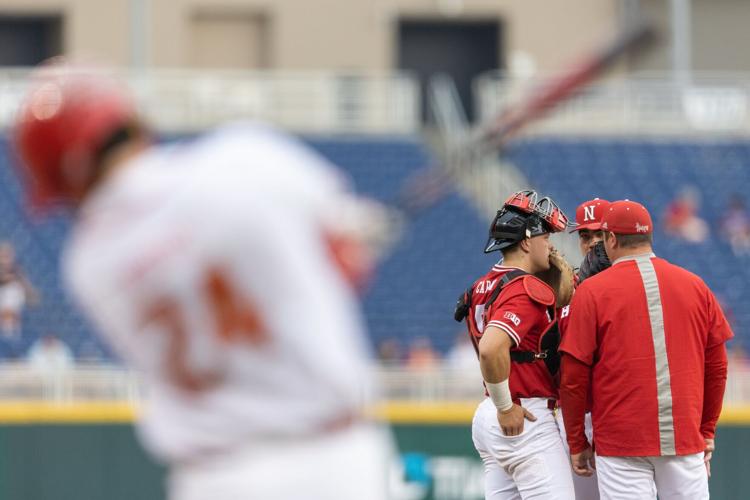 2023-05-26 04:28:00