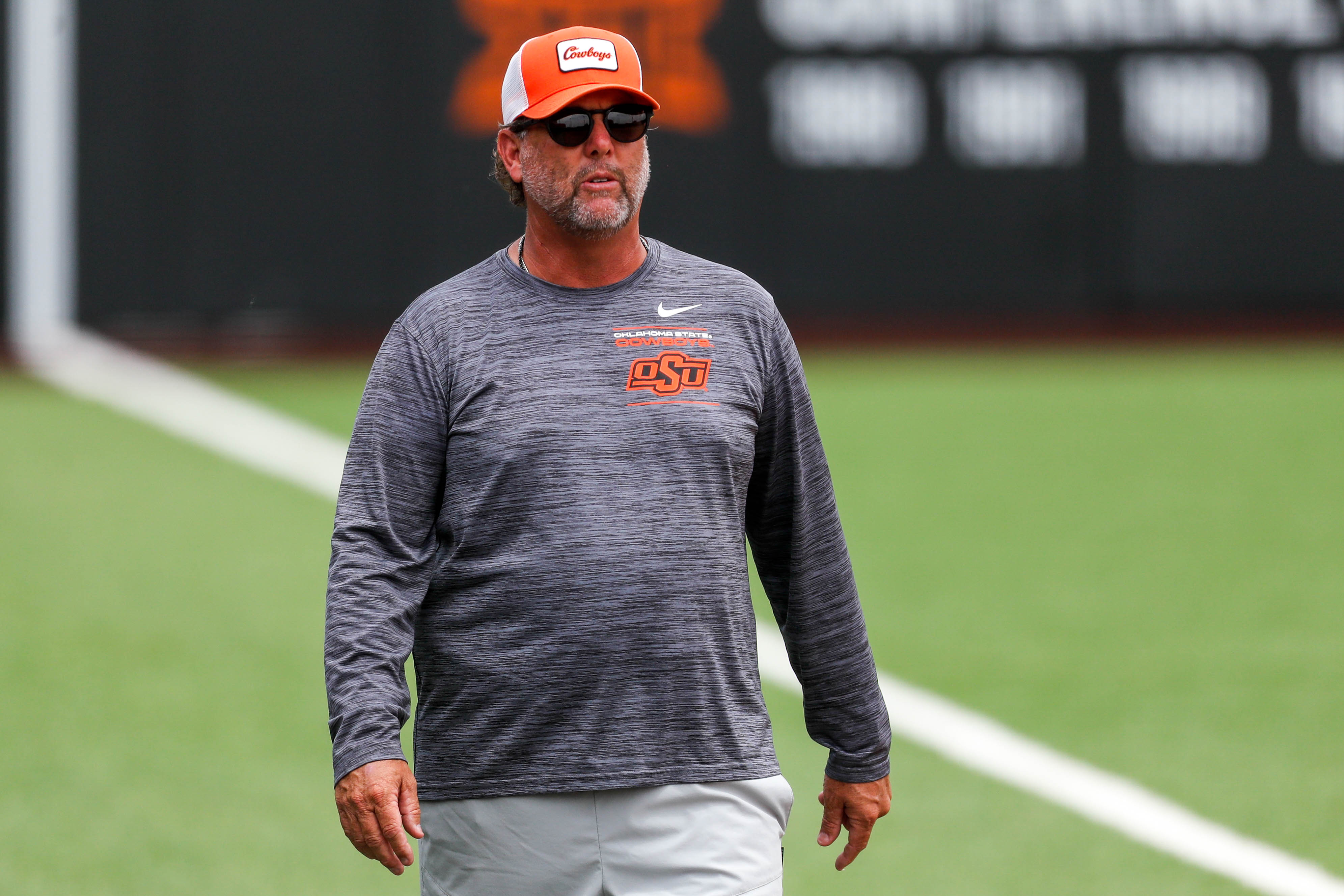 Watch: OSU softball coach Kenny Gajewski talks about Cowgirls' upcoming game against Oregon
Watch: OSU softball coach Kenny Gajewski talks about Cowgirls' upcoming game against Oregon
Nathan J. Fish, Oklahoman
STILLWATER — After Oregon's Alyssa Daniell rolled a run-scoring single through the right side of the infield, Oklahoma State pitcher Lexi Kilfoyl decided there would be no more.
Quite literally. No runs, no hits, no baserunners of any kind.
The senior right-hander retired the final 17 batters and the sixth-seeded Cowgirls' offense lit up en route to an 8-1 win over unseeded Oregon in the opening game of the Stillwater Super Regional on Thursday night at Cowgirl Stadium. 
Oregon managed three early hits, but with spectacular defense behind the hard-throwing Kilfoyl, the Ducks failed to reach base over the final five innings. 
"I didn't know until someone said something," Kilfoyl said of her perfect final 5 ⅔ innings. "I felt good from the start. I was sweating a bunch in that bullpen, but being a Florida girl, I'm used to that.
"I trusted my drop ball and they were putting it in play right to our players. They're covering every single inch of that field, and they did tonight."
More: Tallen Edwards left high school early to join Oklahoma State softball. 'It was worth it.'
Kilfoyl struck out just three batters, but induced 13 groundouts. Oregon only got the ball to the outfield a few times, including a couple of fly balls to the warning track, but both were run down by Cowgirl outfielders. 
Freshman Tallen Edwards made a running catch, leaping just before she hit the wall to make a grab on a fly ball in the first inning, and she came charging in to make another catch in the fifth. Chyenne Factor tracked down a long flyout in the sixth inning. Middle infielders Kiley Naomi at shortstop and Rachel Becker at second base each made tough plays, including a diving stop and quick throw by Becker on a seventh-inning groundout. 
"She was spotting the ball low," Oregon second baseman Allee Bunker said. "She throws the ball hard and low. We were trying to get our pitch."
The Cowgirls (45-14) trailed 1-0 until exploding for three runs in the bottom of the fourth and four more in the fifth, keyed by home runs from Naomi and Morgyn Wynne. That was plenty of offense to deal Oregon (38-16) its most lopsided loss of the season.  
The second game of the best-of-three series is set for 5 p.m. Friday, with the third game, if needed, on Saturday at a time to be determined. 
More: How did Oklahoma State softball find a 'calming perspective?' Meet pitching coach John Bargfeldt
OSU is one win away from its fourth straight Women's College World Series appearance, and Gajewski is almost assuredly sending ace left-hander Kelly Maxwell to the pitching circle Friday.
The decision to go with Kilfoyl was made early in the week when pitching coach John Bargfeldt approached Gajewski with his thoughts.
"On Monday, we were the only two in the office, and I knew he was gonna want to talk," Gajewski said of his conversation with Bargfeldt. "He's a planner. I'm not. I kinda can do whatever. He said, 'Hey, I think I wanna go this way,' and I said, 'We don't have to make a decision here.' And we never talked about it again.
"I think we feel like this because of the way she's pitched here the whole year. She's been as dominant as anybody that we have this year. We just have not played well behind her many times. I came to the ballpark here today and I felt like we've got a No. 1 going, and I'll feel like that tomorrow as well."
Offensively, the Cowgirls got the biggest boost from the home runs, but also took advantage of Oregon mistakes. In the fourth inning, one OSU run came in on a throwing error and another scored when shortstop Paige Sinicki couldn't quite grab a high line drive by Edwards.
The Cowgirls were hitless in the fifth inning until Wynne's homer, having reached base with two walks and an error on a sacrifice bunt, and scoring one run on a groundout before Wynne lined her three-run homer to left field. 
More: How Oklahoma State softball rode into NCAA Super Regional with stick horse named 'Bullet'
The home run — Wynne's 10th of the year — was a laser without much height. But the super-senior designated player never doubted it was gone.
"No, I knew it was over," Wynne said with a laugh. "I swung and I was like, oh, that was great."
The Cowgirls, of course, can't relax with Oregon focused on keeping its season alive on Friday.
"This is best two out of three," Oregon coach Melyssa Lombardi said. "We wanted to get the first game. We didn't, but we've still got two more games to go. What I love about this team is that anytime something hasn't gone our way, we've learned from it, grown from it and it's made us better.
"I know some things that happened to us this game, we'll take into our next game. I love this team. I love their fight. I think they'll do a really good job of being able to let this go and be ready for tomorrow." 
More: How has former longtime OU assistant Melyssa Lombardi resurrected Oregon? 'Keep pushing'
Stillwater Super Regional
Best-of-three series at Cowgirl Stadium in Stillwater:
Game 1: Oklahoma State 8, Oregon 1
Game 2: 5 p.m. Friday, ESPN2
Game 3: TBD Saturday (if nec.)


2023-05-26 03:34:49