Good evening from Greensboro, where I am settled in for a quiet night of basketball at the hotel. After a late night covering the Cats, a run, a big lunch, and an afternoon working at the arena, your girl is tired and resting up for tomorrow. That said, I couldn't help but pull the laptop over to talk about everything that happened on Kentucky's "off day."
SEC in the Second Round Update
By now, you've surely seen that No. 4 Tennessee beat No. 5 Duke (East Region) and No. 8 Arkansas beat No. 1 Kansas (West Region) to advance to the Sweet 16. No. 9 Auburn stayed close with No. 1 Houston (Midwest Region) but the Cougars eventually pulled away. No. 1 Alabama will likely advance later tonight in the South Region unless No. 8 Maryland pulls off an upset.
If you haven't seen the clip going around, Musselman did as Musselman does and ripped off his shirt to celebrate the win.
Who is faster to rip off his shirt, Eric Musselman or Ryan Lemond? A question for the ages.
Kentucky seems focused and loose today
We weren't allowed to watch the Cats practice today at Greensboro Coliseum, but based on the interviews at the podium and in the locker room, the Cats continue to stay loose. The big storylines were Oscar Tshiebwe's friendship with Keyontae Johnson, the Cats' TikTok game, Calipari's respect for Jerome Tang, and how Tang and Kansas State plan to stop Oscar Tshiebwe.
If you missed it, catch up on our YouTube Channel:
Subscribe to the KSR YouTube Channel for press conferences, interviews, original shows, fan features, and exclusive content.
Really loved Calipari's comments on Jacob Toppin
Jacob Toppin's journey this season has been a huge storyline. The senior forward hit "rock bottom" in the loss at Missouri and spoke openly about his mental health struggles. After a heart-to-heart with John Calipari, Toppin regrouped and became the player Kentucky needed him to be. That transformation was nowhere more apparent than Greensboro on Friday night when Toppin owned the matchup with his former teammate Bryce Hopkins. If Kentucky advances to Sweet 16, I fully expect Toppin — who is featured in an AT&T ad you've likely seen a million times — to become one of the faces of Kentucky's run at the national level.
Today, John Calipari reflected on how far Toppin has come.
"Well, you know, I had to do some soul-searching there too because was I the reason he was where he was? Like, am I being too hard? Am I not realizing what this kid is going through, the expectations, my hopes and dreams and they're vanishing before my eyes and, you know — but he wasn't the only guy on my team that way. We had some other guys go through the same. Maybe not as hard as he went through it.
"But, again, now, you think if you are me and you are looking at these kids like they're your own children and you see what he has done, you don't think I'm ecstatic for this kid and his family? I told his mom, I'm so proud of your son because he was in a tough place. She said, 'I know. I know.'"
Good stuff.
Dangit, Kansas State is really likable
The only thing I knew about Kansas State coming into the tournament was they beat Kansas and Jerome Tang was the coolest thing since sliced bread. So, once Calipari and Kentucky's players were done with their press conference, I stuck around to see what Tang and Kansas State were all about.
Man, they are a likable bunch. You're familiar with former Florida player Keyontae Johnson, who collapsed on the court in 2021. His teammate Markquis Nowell stole the show in Greensboro today. When Nowell, only 5'7″, was asked about the advantages of being a shorter point guard, he delivered this zinger:
"When I fall, I'm closer to the floor than everybody else, so that's an advantage."
Once the laughter subsided, he followed it up with this:
"Nah, but, I mean, my toughness and my heart just overpowers any height or any structure to anybody. I just play with that passion."
If that reminds you of another short point guard, you won't be surprised to hear that Nowell used to study Tyler Ulis' highlights going back to high school and thinks of the former Cat turned Kentucky GA as a "big brother."
Equally as entertaining was Jerome Tang, who, when asked about all the Kentucky blue in the stands on Friday and what it means for tomorrow's crowd, quipped:
"I'm color-blind so I didn't see that. It all looked purple to me. I mean, you know, we have played in tough environments, and we've won in tough environments. We've lost in tough environments. Tomorrow is not going to be about the environment. It's going to be about the ten dudes that are on the floor."
If Kentucky wasn't playing Kansas State tomorrow, I'd be all in on the Tang Gang. Gonna be a shame to end their season.
Photos from Saturday in Greensboro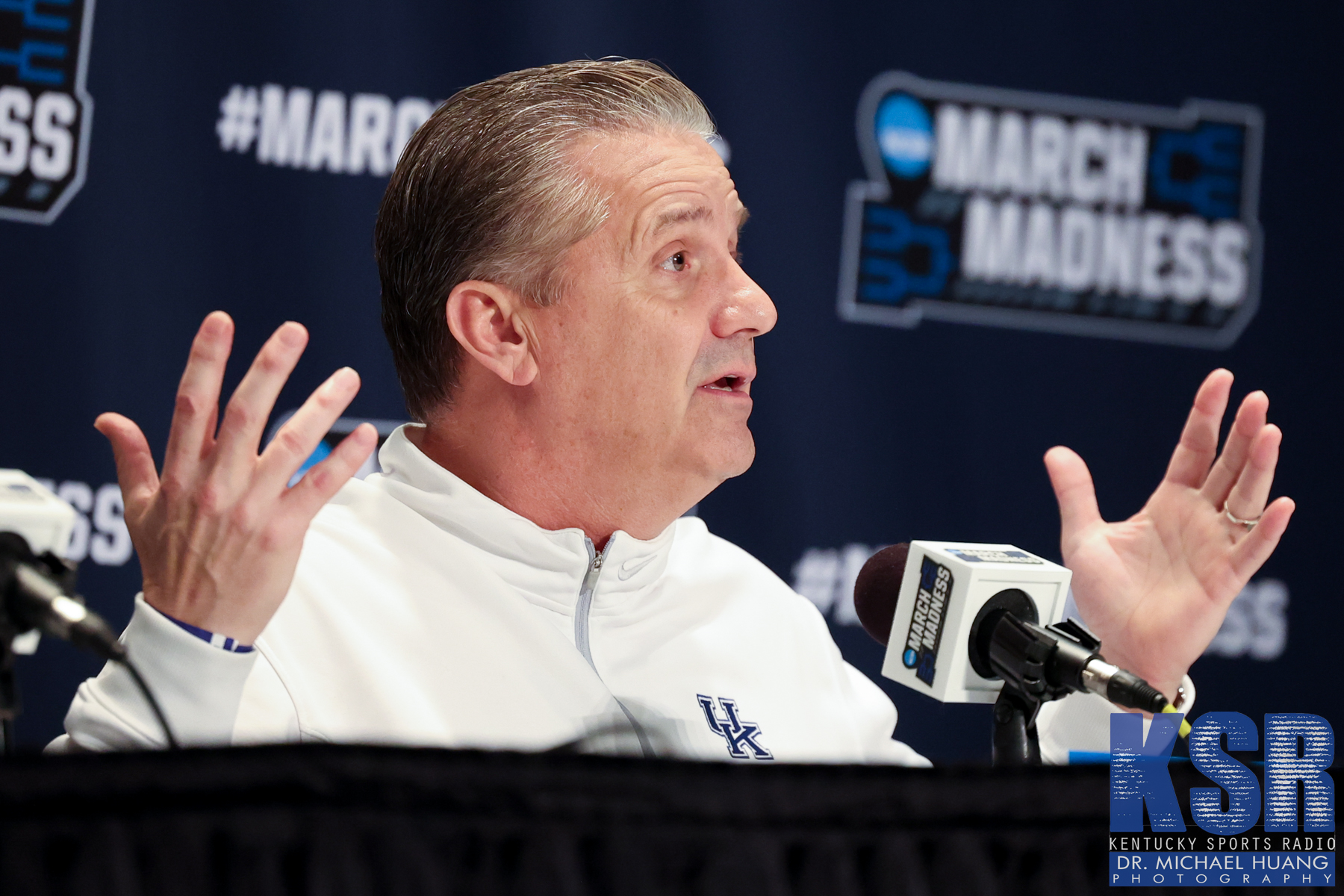 Take advantage of our KSR+ Launch Special and join the conversation on KSBoard, the KSR+ Message Board.


2023-03-18 23:48:23